TREATS UP TO 4 BEDROOMS OF RESIDENTIAL-STRENGTH WASTEWATER
Easy: The CE5 is Fuji Clean's most compact system, which can effectively treat up to 4 bedrooms of straight wastewater, with an up to 75% reduction in drainfield size and a 12" reduction in drainfield height.
Simple: No additional septic tank is required.  Straightforward installation. This low maintenance compact system is a natural choice for any home.
Compact: A very small footprint (7'1" x 3'8") and weight of just under 400 pounds makes this system highly maneuverable and adaptable to the very tightest and most difficult sites.
Designed to accommodate ebb & flow of seasonal dwellings and summer homes.
PRODUCT STRUCTUAL  DRAWING
RESIDENTIAL INSTALLATION MANUAL
FAQS FOR PROFESSIONALS AND HOMEOWNERS
Model

CE5

ANSI/NSF Certified

NSF-40

Height (inches)

61.8

Load (Bedrooms)

4

Length (inches)

85

Load Hydraulic (GPD)

450

Width (inches)

43.7

Typical Effluent Quality BOD (mg/L)

10-20

Inlet Invert (inches, rounded to 1/8")

49

Typical Effluent Quality TSS (mg/L)

10-20

Outlet Invert (inches, rounded to 1/8")

47

Typical Effluent Quality TN (mg/L)

10-20

Volume Total Tank (gallons)

540

Power Use (kWh/day)

1.27

Volume Chamber 1, Sedimentation (gal)

198

Material

Fibre-Reinforced Plastic

Volume Chamber 2, Anaerobic (gal)

198

Weight (lbs.)

397

Volume Chamber 3, Aeration (gal)

95

Access Ports (number)

3

Volume Chamber 3a, Storage (gal)

44

Risers

3

Tuf-Tite 20-inch Risers

Volume Chamber 3b, Disinfection (gal)

4

MAC80R AIR BLOWER (standard for CE5 system)

Blower Model / CFMMAC80R / 2.8 CFM

Outlet Pipe Size

13mm ID (18mm OD),

33/64 inch ID (45/64 inch OD)

Air Flow Volume

80 L/min,

2.8 CFM

Weight

5.0 kg,

11 lbs.

Normal Pressure

15 kPa,

2.2 psi

Power Consumption

54 W

Rated Voltage

120 V

Power Cable

3×18AWG×1.8m (5ft.11in.)

Frequency

60 Hz

Manufacturer

Made in Japan by Fuji Clean

Easy, Straightforward Installation

Cost Efficient vs Other Solutions

Lower Impact on Property

Best Option for the Environment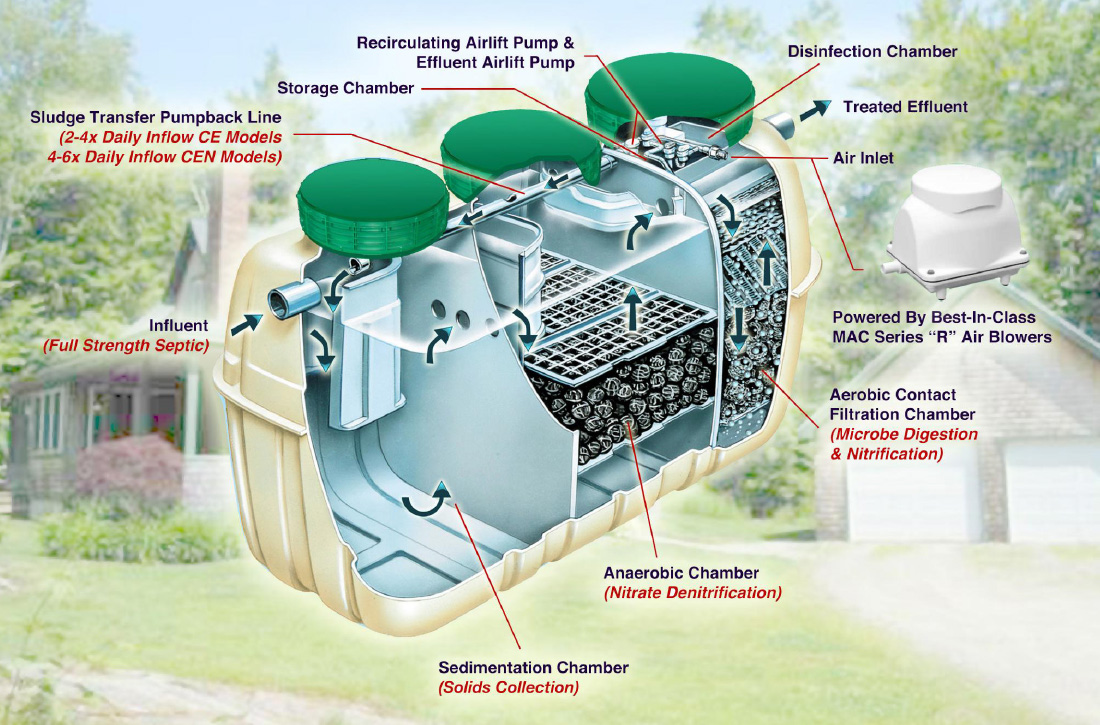 Since 1961, Leading the World in Onsite Wastewater Treatment
Fuji Clean Co Ltd. was established in 1961 and have continuously developed their range of wastewater treatment products over the past 50 years. To date FujiClean have installed over 2 million units and are the industry leader in Japan with a market share of 34%. Now operating globally(Asia, Australia, USA & EU) FujiClean is working towards providing everyone with access to the most reliable % cost effective system for onsite wastewater treatment. In 2006, the Japanese Ministry for Environment reported that nearly 11 million citizens were being serviced by Jokaso technology in Japan. As a market leader FujiClean continue to install 50,000+ systems per year.