EASILY TREATS UP TO 8  BEDROOMS OF RESIDENTIAL WASTEWATER
The CE10 is the most compact eight bedroom system on the market today. Up to a 75% reduction in drainfield size compared to other systems. Designed to accommodate the ebb & flow of seasonal dwellings and summer homes these compact systems are an ideal choice for  larger homes being built along the waterfront of Maine's coast.
Low Maintenance, compact, and dependable the Fuji Clean CE10 also has a simple, straightforward installation.  The relatively small footprint (8'3" x 4'9") and lightweight (700 lbs.) makes this system highly maneuverable and adaptable to the very tightest and most difficult sites.
Call for a free estimate today.
Technical Specifications , CE10 Treatment System

Model

CE10

ANSI/NSF Certified

NSF-40

Height (inches)

73.6

Load (Bedrooms)

8

Length (inches)

98.8

Load Hydraulic (GPD)

900

Width (inches)

56.7

Typical Effluent Quality BOD (mg/L)

10-20

Inlet Invert (inches, rounded to 1/8")

61

Typical Effluent Quality TSS (mg/L)

10-20

Outlet Invert (inches, rounded to1/8")

59

Typical Effluent Quality TN (mg/L)

10-20

Volume Total Tank (gallons)

1,069

Power Use (kWh/day)

1.27

Volume Chamber 1, Sedimentation (gal)

397

Material

Fibre-Reinforced Plastic

Volume Chamber 2, Anaerobic (gal)

396

Weight (lbs.)

705

Volume Chamber 3, Aeration (gal)

181

Access Ports (number)

3

Volume Chamber 3a, Storage (gal)

90

Risers

2 Tuf-Tite 20-inch Risers

1 Tuf-Tite 24-inch Riser

Volume Chamber 3b, Disinfection (gal)

6

MAC80R AIR BLOWER (standard for CE10 system)

Blower Model / CFM

MAC80R / 2.8 CFM

Outlet Pipe Size

13mm ID (18mm OD)

33/64 inch ID (45/64 inch OD)

Air Flow Volume

80 L/min

2.8 cfm

Weight

5.0kg

11 lbs.

Normal Pressure

15 kPa

2.2 psi

Power Consumption

54W

Rated Voltage

120V

Power Cable

3×18AWG×1.8m (5ft.11in.)

Frequency

60Hz

Manufacturer

Made in Japan by Fuji Clean

Easy, Straightforward Installation

Cost Efficient vs Other Solutions

Lower Impact on Property

Best Option for the Environment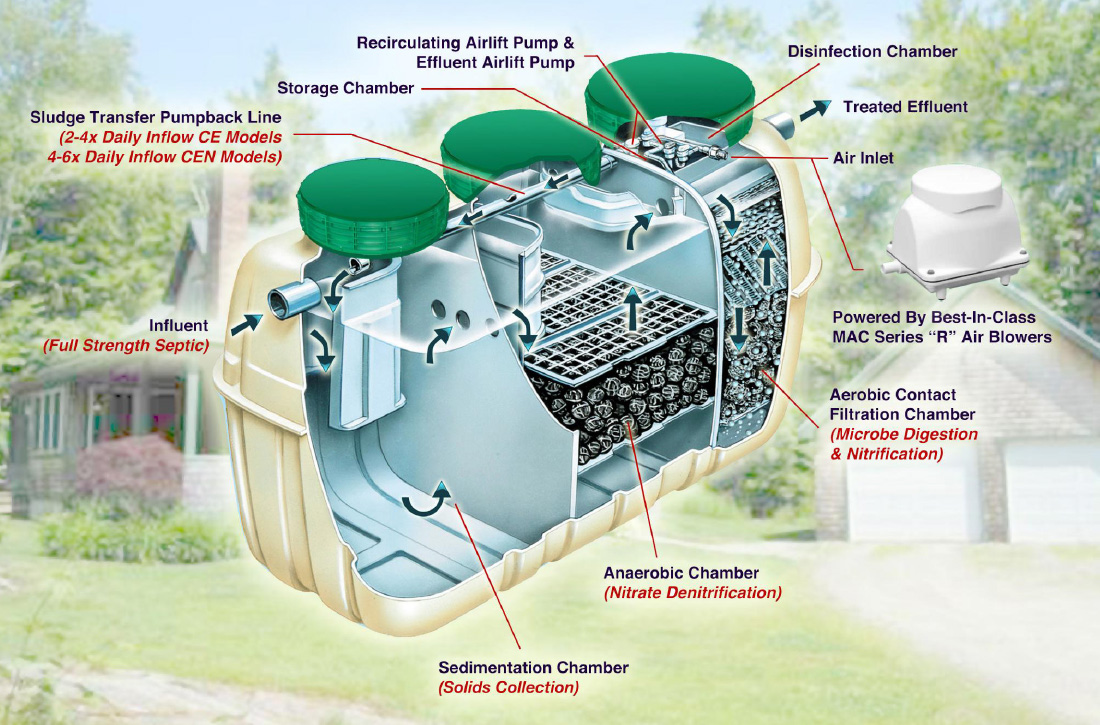 Since 1961, Leading the World in Onsite Wastewater Treatment
Fuji Clean Co Ltd. has been engineering state of the art wastewater treatment products since 1961.  Collectively, we have over 2 million of these units working flawlessly in the ground worldwide.
Combining Japanese world-class engineering with Maine's work ethic and know how, and you get a company that is constantly striving for perfection. We carry the yankee spirit of independence, hard work, understatement, honesty, high expectations, and fairness to work every day.
What does this mean to you?
Our septic systems have proven themselves as the most reliable and most efficient advanced wastewater treatment systems in the world.  We have installed our septic systems all over the state of Maine and we are proud to offer our modern wastewater treatment solutions for your residential or commercial needs.